By Sylvia Gist
I like my salads to be colorful and tasty, which means I need a variety of "greens." I like dark and light green leaves, red leaves, and different leaf shapes and textures in my salads.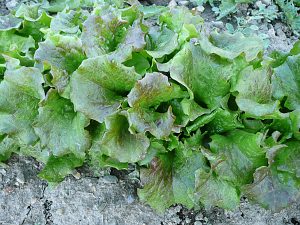 Red-tinged winter lettuce planted in August
To get the ones I like, I grow them myself. One of the big advantages is that most grow quite fast so I don't have to wait months to get a crop. Most also can be harvested over a period of time. Many are cold hardy so you can grow them throughout most of three seasons, depending upon where you live. Grab a seed catalog that caters to your climate and peruse the appropriate sections to find what appeals to you.