Whether you live deep in the woods or on the top floor of a high-rise apartment, we truly believe that you can enrich your life by becoming more self-reliant.
This magazine contains articles on cooking, DIY information, gardening, livestock, foraging, building, and preparedness.
Self-Reliance magazine is available as a printed edition and for Amazon Kindle.
Subscribe to Self-Reliance magazine
Subscribe to Self-Reliance for Kindle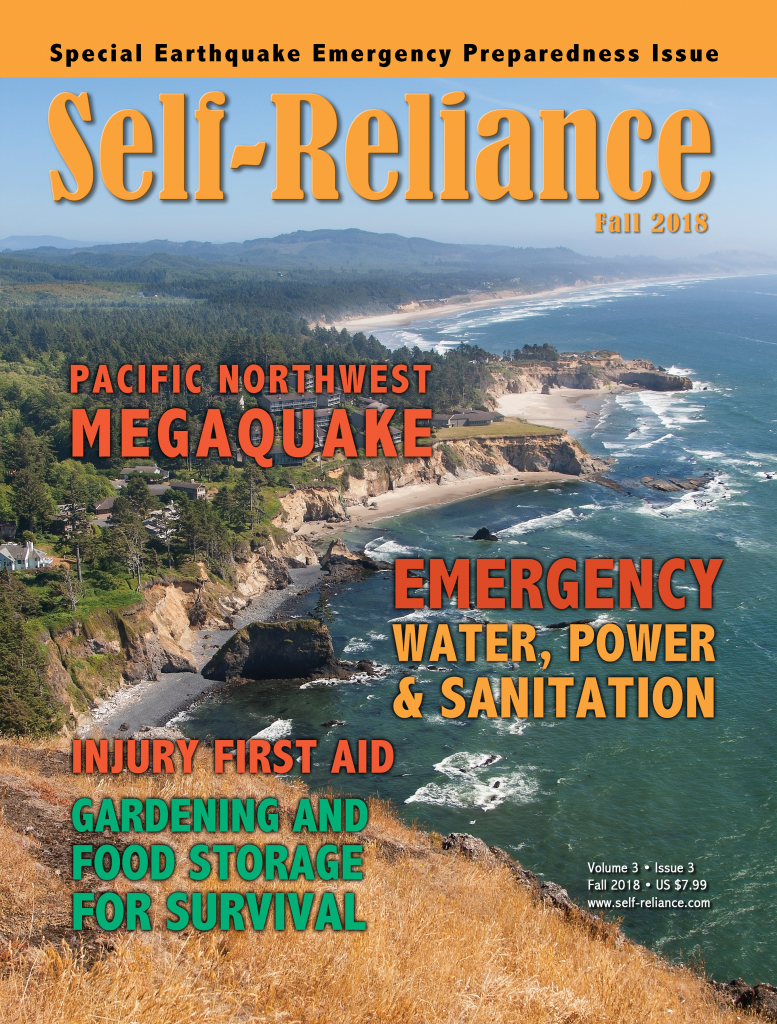 In the current issue — Fall 2018
Emergency Preparedness
♣ Pacific Northwest Megaquake — it may be just around the corner by Dave Duffy
♣ Planning for survival with the OODA loop by Don Lewis
♣ Where will you get water in an emergency? by Patrice Lewis
♣ Earthquake power by Jeffrey R. Yago, P.E.
♣ Emergency sanitation by Patrice Lewis
♣ Medical issues in earthquake scenarios by Joe Alton, MD
♣ Mommy, I'm hungry! by Jackie Clay-Atkinson
♣ When natural disaster strikes, a pantry full of canned foods is a real life saver by Linda Gabris

In the self-reliant home
♣ Keeping clean by Angeline Hawkes
♣ On being sharp by Len McDougall
In the garden
♣ Survival gardening by Jackie Clay-Atkinson
♣ Tips for the new gardener by Tom Kovach
♣ Short season gardening by Michele Cooper
In the kitchen
♣ Make ghee: The shelf-stable way to preserve butter by Kathy Harrison
♣ Preserving pears by Kristina Seleshanko
♣ Make bone broth by Melissa Souza
In the workshop
♣ A scrap bookshelf anyone can make by Roger W. Grim
Features
♣ Ask Jackie by Jackie Clay-Atkinson
♣ Reader feedback