By Miranda Rommel
Cheese: it's delicious. Cheese making is a skill that's been practiced for thousands of years, but for many home cooks it can seem mysterious and complicated. But it doesn't have to be intimidating. Forget the special cultures, rennet, or dark caves. If you're a newbie cheese maker, this is a great recipe for getting your feet wet and has lots of room for creativity.
"Farmer's cheese" is something you can make without much planning. In fact, I've often made a batch of this cheese just because I noticed my raw milk was nearing the end of its freshness. All you need is some milk, vinegar, or lemon juice, and a few basic kitchen tools — all things you probably have on hand anyway. Farmer's cheese is by itself a fairly bland cheese, can get too dry and crumbly if you over press, and it doesn't melt. But it can be really delicious, especially when you spice it up some, and that lack of melting makes it a perfect candidate for frying — use it in place of Paneer in Indian dishes, or just fry it up as an appetizer. This cheese is meant to be eaten right away or within a few days.
I like to season my farmer's cheese with finely diced garlic, dried chilies, rosemary, and plenty of salt. The combo is delicious! Prefer chives? Maybe some basil? This cheese is so versatile you can really add any spice and herb combination you enjoy. Just be sure to use a good amount of salt.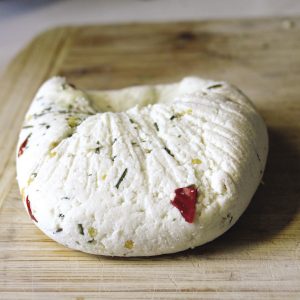 I love to spice up easy-to-make farmer's cheese with herbs and spices like fresh rosemary and chilies from my garden.
As with most cheese making, you will end up with way more whey than cheese, so if you have hogs or poultry they will love to slurp this up. You can also save some whey as a sipping drink that packs a protein punch. I always freeze an ice cube tray full of it to use in fermentation or grain soaking. No waste!
Ingredients
1 gallon milk — raw or pasteurized, skim or whole (whole will make a much tastier cheese)
1/2 cup apple cider vinegar (you can also use white vinegar, white wine vinegar, or lemon juice)
Ground herbs of your choice
Equipment
Cheesecloth or old bandana or pillowcase
The process: No thermometer required! Heat your milk to a rolling boil. Turn off the heat and add vinegar, stir. The milk should begin curdling and separating right away into yellowish clear whey and clumps of curds (your future cheese). You want to allow the curds and whey to fully separate before straining (whey should be yellowish clear, not milky looking. You can add a splash more vinegar if the whey isn't clarifying after several minutes). Once fully separated, pour the whey and curds into your colander that has been lined with cheesecloth over another large pot (you could do this into the sink drain, but why waste all that nutritious whey?). Sprinkle salt and herbs over the curds and mix with your fingers to distribute, then close up the cheesecloth with a twisting motion to press out whey. Twist out whey until it's difficult to squeeze any more out.
You can now set the cheesecloth parcel back in your colander and put your "something heavy" over the bundle and allow to press. The timing for pressing and draining is a matter of personal choice: you want it to become dry enough to hold together but not so dry that it's crumbly and boring. I almost always over press, so do some experimenting and feel free to unwrap and taste test.
Yum! This cheese makes a lovely appetizer and fries well for some extra fun. Don't be intimidated by cheese making — try it out!
Miranda Rommel is a professional artist living on "Birdsong Farm" in western Oregon. New to homesteading, Miranda and her husband, Andy, (along with their corgi, Pocket) do their best to eat seasonally, grow much of their food, raise happy livestock, and slowly improve the 17 acres they are lucky to call home. Miranda is an avid cook and advocate for sustainable living. Read more about their adventures at www.PocketPause.com.