Subscribe to Self-Reliance Magazine
Self-Reliance Magazine (SR) is a quarterly 84-page homesteading magazine that has articles on gardening, canning, cooking, DIY projects, livestock, foraging, and preparedness. SR does not have articles on firearms or politics, believing that readers want a break from controversial topics just as football fans want a break from politics. Whether you live deep in the woods or on the top floor of a high-rise apartment, we truly believe you can enrich your life by becoming more self-reliant.
Look through some of our books on self-reliance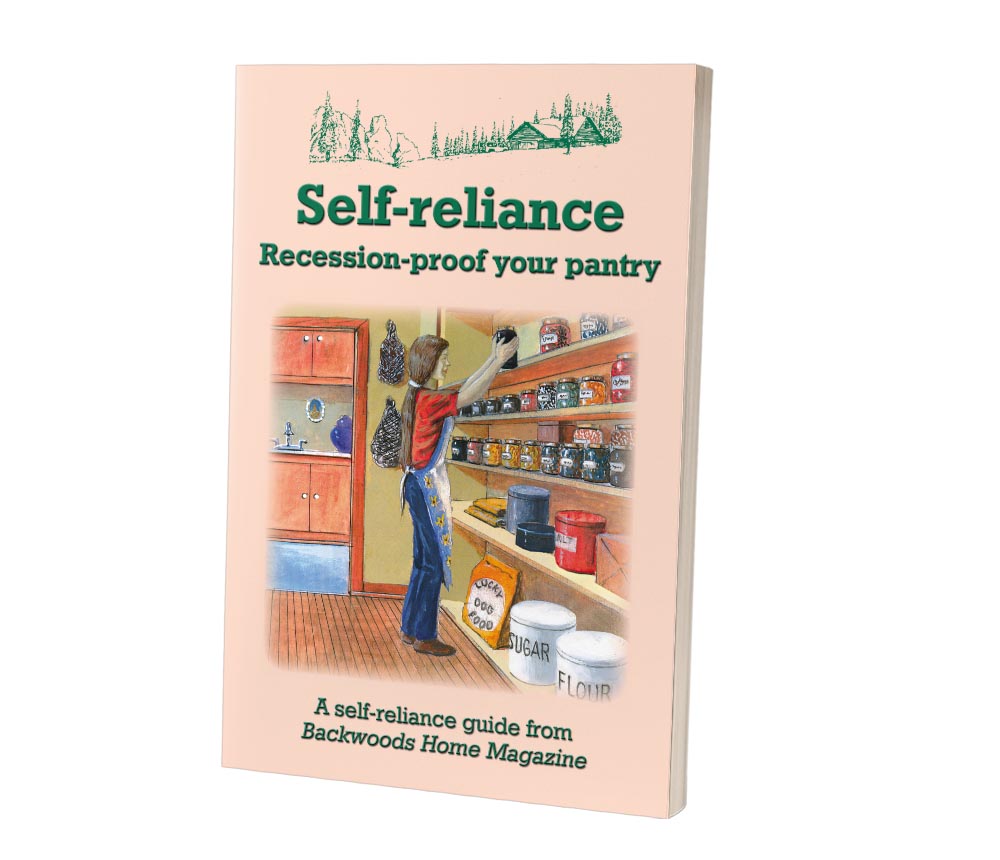 Self-Reliance: Recession-proof your pantry
A well-stocked pantry is a sight to behold. And even better than just looking at shelves filled with purchased canned goods as well as home-canned meats, vegetables, fruits, jams, jellies, and pickles, is knowledge that in good times and bad, there is plenty of food available to keep your family well-fed.
This book will help you to decide not only what to add to your pantry, but how much. Can your family survive out of your pantry for a whole year? There are chapters on canning basics, canning meat, meals in a jar, salmon, pickles and relishes. What well-stocked pantry doesn't have plenty of various tomato products? You can also find information about drying, smoking and making jerky. A variety of recipes at the end of the book will help you get creative while using some of your own purchased or home-canned items to prepare nutritious meals for your family.
$9.95 — 140 pages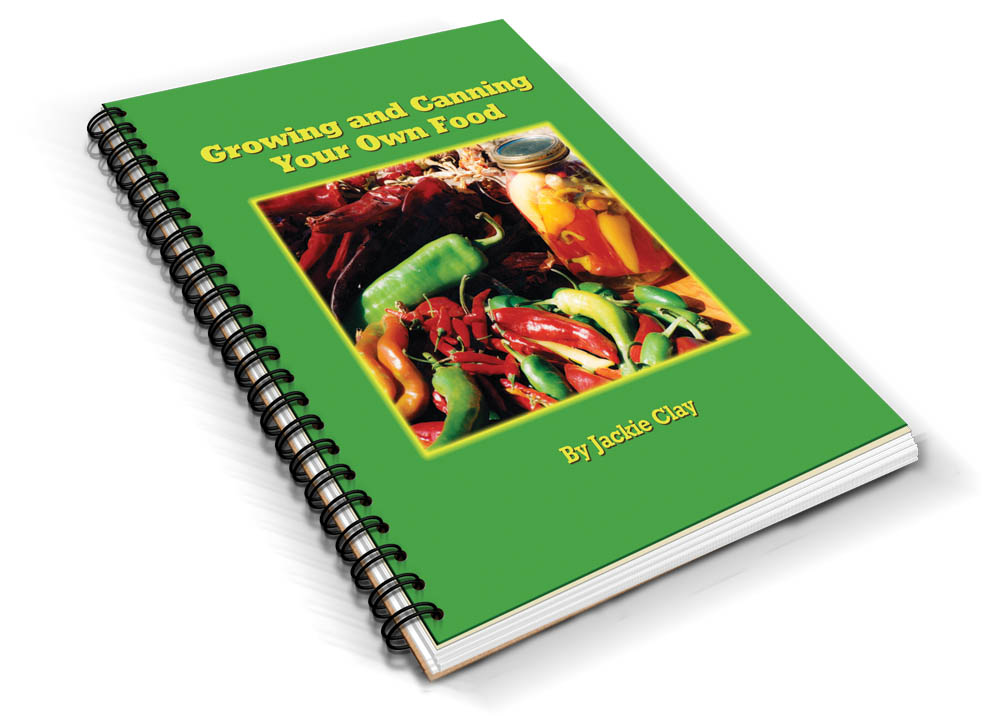 Growing and Canning Your Own Food
Want a meal in a hurry? Jackie gives recipes for "Meals-in-a-jar." There's no point in having tons of stored foods if you don't know what to do with them all. Jackie provides some of her best tried and true favorite recipes at the end of this big, popular book. (We at Self-Reliance Publications can attest to how delicious Will's blackberry cheesecake is!) This book makes a terrific gift for anyone who wants to learn more about canning and preparing food that they have grown or raised themselves.
Topics include: Gardening basics, Canning supplies, Canning basics and safety, Growing fruit, Home canning high acid foods, Growing and canning tomatoes, Pickles, relishes, sauces, and salsas, Growing and canning vegetables, and Raising and canning meats.
$24.95 — 242 pages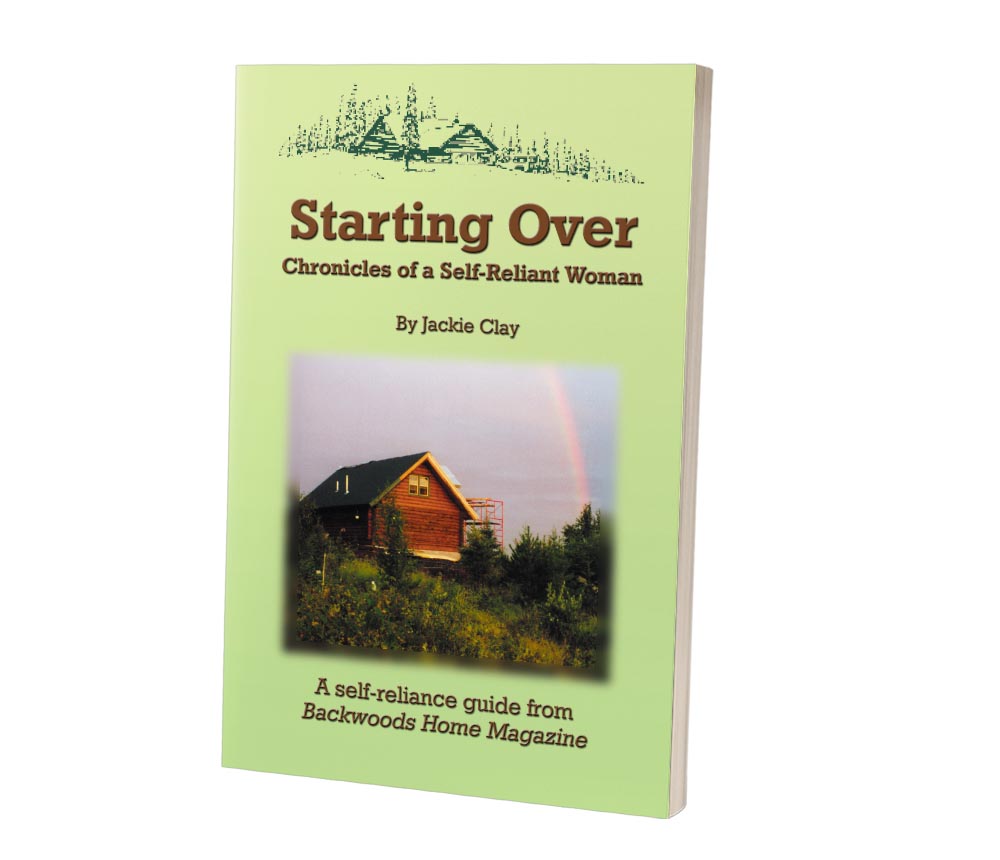 Starting Over
Jackie Clay is no ordinary woman. She has inspired tens of thousands of Backwoods Home Magazine and Self-Reliance readers. They have gained valuable information from her homesteading knowledge and wisdom on all aspects of country living, growing and preserving foods, taking care of livestock, and so much more.
This book chronicles her journey as she carved out a brand new home in the wilderness. This book is as inspiring as is Jackie herself. We are so fortunate and grateful for her knowledge.
$9.95 — 200 pages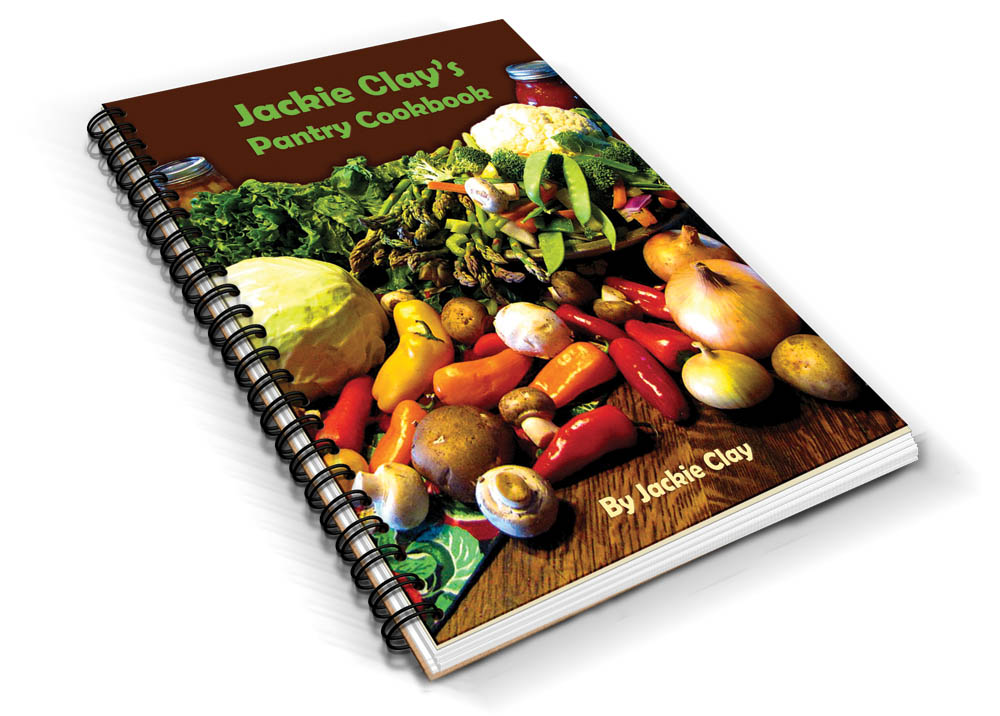 Jackie Clay's Pantry Cookbook
This book will help you learn where and how to set up a pantry, even if you don't have the space, as well as what to stock in your pantry and the shelf-life of some of these items. She includes many of her own recipes to help you create thrifty, tasty meals straight from your pantry.
In this volume, you'll find:
• Recipes using home-canned meats as well as fresh or frozen
• Recipes using canned vegetables as well as fresh or frozen
• Recipes using your stored dried goods (pasta, rice, other grains)
• Recipes using rehydrated eggs, cheese, and other dairy products
• Desserts using home canned jams, jellies, and fruits
$24.95 — 290 pages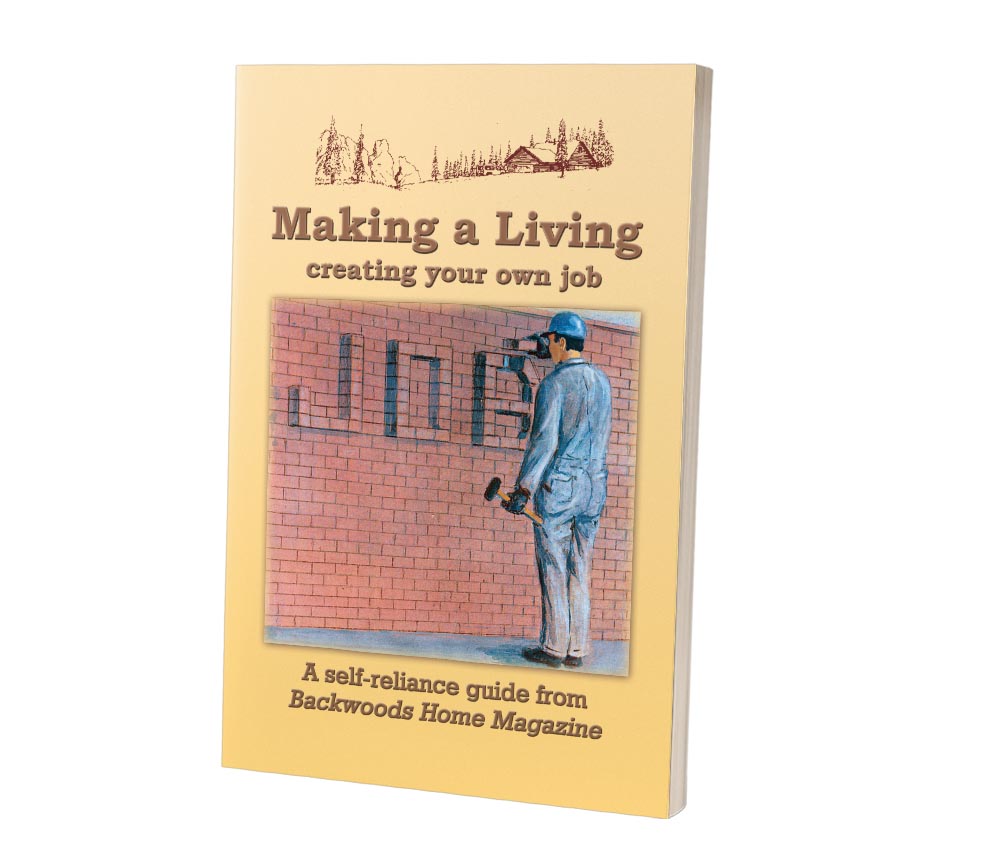 Making a Living: Creating your own job
Making your own living and creating your own job is one of the most important things you can do to be truly self-reliant. This book has real-life stories of people who have made their own living doing what they love. It's been said, "Opportunity only knocks once." The fact is, it pounds on the door constantly. Take stock of your own unique talents and abilities; it might trigger something that will encourage you to invent your own job.
$9.95 — 140 pages