By Charles Sanders
Rhubarb is a perennial vegetable that is used as a fruit. It is known scientifically as Rheum rhabarbarum and is a relative to dock and buckwheat. Rhubarb is also a common, old-fashioned homestead crop. The broad-leafed plant is grown for its sour stalks and is used in making deliciously sweet and tart pies, cobblers, and sauces. An early season crop, it enjoys the cooler days of spring; once the weather starts heating up, rhubarb will bolt.
My earliest introduction to rhubarb came in the form of the delicious cobblers my mom made when I was a kid. Mom used lots of rhubarb and lots of sugar to make the cobbler filling. When Mom didn't have a cobbler on hand, us kids would break off stalks of the ruby red plant and chew on them, making some pretty wild faces as we enjoyed the sour treat. Later, when I was in college, I had a "rhubarb route" where I sold bushels of the freshly-cut stalks to grocery stores. Where I now live, there is a good demand for rhubarb and rhubarb starts. You can easily sell any surplus.
In fact, I'd been looking for a local source of rhubarb starts for a couple of years. Some folks don't like digging into their hills of rhubarb, and others simply use all they grow. Luckily, I spotted some rhubarb plants for sale at the greenhouse run by one of our Amish neighbors this last spring. I quickly added a couple plants to my purchase. I chose the variety Canada Red, simply because it resembled the variety we had when I was growing up.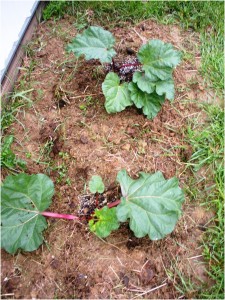 My new starts of Canada Red rhubarb. They are planted on the east side of my shed, as some old-timers recommend.
Rhubarb basics
Some people will mention that rhubarb is poisonous. Well, that is kind of true. Every part of a rhubarb plant contains oxalic acid. The leaves have enough of it to make them poisonous to humans — avoid eating the leaves. They may, however, be composted. Luckily, the amount of oxalic acid found in the stalks is not harmful to humans.
Rhubarb is a good source of calcium, fiber, and vitamins C and K. So, besides being tasty, it's also good for you! This plant was so popular on early homesteads that it was simply given the name "pie plant." A healthy, mature rhubarb plant will often reach a diameter of three feet with some of the stalks reaching 18 to 20 inches in length.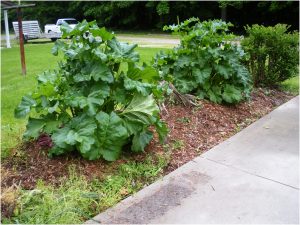 Two fine hills of rhubarb. Note that they are planted on a mounded row. That helps them to thrive.
Rhubarb varieties
There are many varieties of this popular plant. The stalks come in two different colors, red and green. It is said that the green varieties are a bit more tart and have a sharper taste than the red types. I just recently ate a pie made from green rhubarb and found it to be very good … very good! Others say that the green varieties are a bit hardier and should perhaps be considered by gardeners in more northerly climes.
Here are some of the popular varieties of rhubarb for the home grower. I don't think you could go wrong with any of them.
Victoria — a popular, mostly green variety, with just a hint of red at the base of the stalks.
Linnaeus — an old-time variety. It is mostly green but blushes red towards the base of the stalk.
Valentine — a newer variety and a very good one at that. The plant is sweeter to the taste and grows quickly. It is very popular with home growers.
Canada Red — another sweet variety. This type grows very large and can produce 5 to 12 pounds of stalks per plant in one season.
Ruby — a good red variety.
MacDonald — another good red variety. A good bearer and very sweet … comparatively speaking, of course.
Starting rhubarb
To get your own rhubarb patch started, first consider a few old rules. First, old-timers will tell you that rhubarb likes "dry feet," which means well-drained soil is a must. A mounded row or raised bed is a good spot for your new plants.
Second, the frequent use of compost, horse manure, or other good organic fertilizer will do wonders for the patch. Not only will the plants benefit from the nutrients, but the material will help to keep weeds down.
The third rule to consider is to set the plants on the east side of a building. I am testing this out, but apparently it is to avoid the late afternoon sun and to provide a bit of shade for the plant, which will prolong the harvest.
When you begin your rhubarb patch, you will most likely begin with plants or root crowns. In your planting bed, set the plants about three feet apart in rich, well-drained soil. As I mentioned, a mounded planting site will help the plants to survive and thrive. If you are setting crowns, be sure the buds are about two inches below the surface of the soil.
Remember, too, that since rhubarb is a perennial, locate your patch where it will be out of the way. It is going to be there for a while. Once the patch is established, keep a good mulch or compost around the plants for the nutritional benefits and to keep weeds down. It will bear for several years before needing further attention.
Set your plants out in the early spring, before they take off growing. I'd recommend that you try not to harvest any stalks during the first year of growth, but rather allow the plant to devote its energy to developing good roots and growth. However, if you have to cheat and harvest a few stalks from a healthy, growing plant, you'll probably be okay.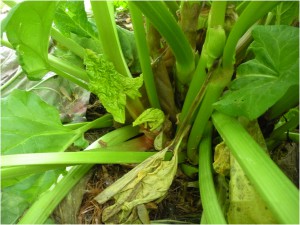 New leaves emerging among the mature stalks. This is a green variety of rhubarb, with just a hint of red around the base of the stalks.
Harvesting rhubarb
Once the stalks (not counting the leaves) reach 12-15 inches in length, it is time to harvest your rhubarb. To do that, you can cut the stalk near the base with a sharp knife, being careful not to injure remaining stalks. An even simpler way is to simply grasp the stalk near the base and give it a twist and a pull. If you break a few stalks learning this, that's okay. You'll catch on soon enough and you'll be quickly adding stalks to the basket. The twist and pull method is actually preferred as you don't leave a weeping stub of a stalk to invite insect pests.
You can continue harvesting the stalks through June, after which time you should allow the plants to grow, bolt, and make food reserves for the winter. By that time, though, you should have many quarts of pie-fixin's stored in the freezer.
Freezing is the method we prefer to store harvested rhubarb over the winter. After harvesting the young stalks, we cut the leaves off the stem and trim off any coarse material from the lower end of the stalk. As mentioned before, the leaves contain high concentrations of oxalic acid and are poisonous to humans. After trimming the stalks, we simply wash the stems, cut them into small chunks half an inch or so in length, blanch them for a minute or two, then put pie-sized quantities in a zip bag and freeze them.
Dividing the patch
Once the patch is six or seven years old, it may be time to rejuvenate it. This can be done by digging into the patch and dividing the plant roots. As I've noted early in this article, rhubarb starts can easily be sold or traded in the early spring.
To divide the plant, simply dig into the root clump with a sharp shovel. Use the shovel to help break away a softball-sized clump of root, dirt, and buds. Carefully move these clumps to your planting site. They should be replanted as soon as possible after digging them up.
Rhubarb recipes
Rhubarb cobbler
1 to 1½ cups rhubarb, diced
½ cup flour
1 tsp. baking powder
¾ cup sugar
¼ tsp. salt
1 tsp. vanilla
1 egg
Preheat the oven to 350° F. In a large bowl, mix the rhubarb, flour, baking powder, sugar, and salt. Add the vanilla and the egg. Spread the mixture into a lightly-greased square pan and bake it at 350° F for about 30-35 minutes. Once it is good and browned, remove it from the oven and set on a rack to cool. A dollop of ice cream makes this hard to resist!
Strawberry-rhubarb pie
Pie filling:
2 cups young rhubarb, diced
2 cups strawberries, sliced
¼ cup flour
1½ to 2 cups sugar (depending on if you like your pie more tart or more sweet)
2 Tbsp. butter
Pie crust:
2 cups sifted flour
1 tsp. salt
⅔ cup shortening or lard
¼ cup ice water
For crust, mix the flour and salt together. Put ⅓ cup of the mixture in a bowl or cup and mix in the ice water until it creates a smooth paste.
In a large bowl, cut the shortening or lard into the flour until the mix resembles small gravel or peas in size. Add the flour paste to the mix and work it by hand until it is thoroughly mixed and the dough can be formed into a ball. Divide the dough to make two round disks.
Make the filling by mixing the rhubarb, strawberries, flour, and sugar. Blend gently but well and set it aside.
Preheat your oven to 450° F.
Roll out one of the dough disks to make the bottom crust. Place it in a 9-inch pie pan and trim. Add the pie filling and put dabs of butter atop the filling.
Roll out the second dough disk and place it atop the filled pie pan. Crimp the edges and sprinkle the top with sugar. With a fork or knife, make several cuts in the top crust to allow steam to escape. Note: As an option, you can cut the top crust dough into strips and weave it atop the pie filling to create the iconic lattice-style crust.
Bake the pie for about 10 minutes, then reduce the heat to 350° F. Bake for another 35 minutes or so, until it is golden brown. Cool the pie on a wire rack.
Rhubarb cream pie
1 cup rhubarb, diced
2 Tbsp. flour (heaping)
1 cup sugar
1 cup heavy cream
1 pie crust (store-bought or homemade)
Preheat your oven to 400° F. Mix the flour and sugar in a large bowl. Stir in the rhubarb and cream until the sugar is completely dissolved. Pour the mix into the pie crust and bake for about 20 minutes. Reduce the temperature to 350° F and bake for 25 minutes more. Reduce the heat to about 300° F and watch the pie. As soon as the cream takes on a glossy appearance, remove it and cool on a wire rack.
Rhubarb custard pie
This is a truly delicious pie that my wife makes. It has received rave reviews from my friends, one of whom threatened to eat the plate it was on as well as the pie.
1 pie crust (store-bought or homemade)
1¼ lbs. rhubarb, diced (about 4 ½ cups)
¾ cup sugar, divided
½ tsp. orange zest, finely grated
2 Tbsp. orange juice
2 eggs
⅔ cup heavy cream
¼ cup flour
Powdered sugar, for dusting
Preheat your oven to 350° F. Place the pie crust into a pie pan and chill it for about 15 minutes. Then, using a fork, poke some holes in the sides and bottom of the crust. Bake the empty crust for about 25 minutes, then let it cool.
Next, mix ¼ cup of the sugar, orange zest, and orange juice in with the rhubarb. Once it is thoroughly blended, put it into the pie crust in an even layer.
Mix the eggs, cream, flour, and the remaining sugar, blending until smooth. Pour the mix over the rhubarb. Place the pie pan on a cookie sheet and bake until the pie is puffed up a bit, the center is no longer wet, and the pie is lightly browned. This should take about an hour and fifteen minutes or so. Cool the pie on a wire rack. Give it a light dusting of powdered sugar just before serving.
I like this pie served cold, out of the refrigerator.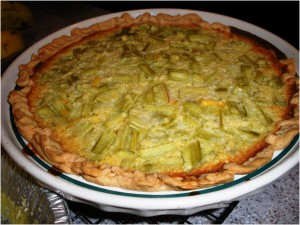 A rhubarb custard pie, fresh from the oven
Rhubarb jam
Rhubarb jam is a tangy tart-sweet spread to use on biscuits or toast. It makes what we call "freezer jam," meaning it is stored in the freezer or refrigerator until used.
7-8 cups rhubarb, diced into 1-inch chunks
3 cups sugar (to taste)
1 pkg. (3 oz. )strawberry gelatin mix
First, wash and cut up the rhubarb. Cook it in a small amount of water over low-medium heat. Mash the pieces down as needed to get them all softened. Add sugar to suit your taste and stir it in until dissolved. Add the gelatin mix and stir in thoroughly. Pour the hot mixture into containers and let cool. Store in the freezer or refrigerator. This recipe makes about 3 pints.
Strawberry-rhubarb preserves
This tasty spread combines the tartness of the rhubarb with the sweet flavor of the strawberries. I think you'll like it.
4 cups rhubarb, diced
4 cups strawberries, sliced
6 cups sugar
1 box Sure-Jell or other pectin
3 Tbsp. lemon juice
Over low heat, soften the rhubarb in a very small amount of water. Add the strawberries and mix well. Add the sugar, mixing it in thoroughly. Add the lemon juice, then the pectin, mixing everything thoroughly. Pour the hot mixture into sterilized containers, then either process according to your canning manual, or freeze.
Rhubarb sauce
This sauce is good to use on pork or poultry dishes and adds a tangy-fruity goodness to the finished product. It is also good over ice cream.
2 cups orange juice
1 cup honey
½ to 1 tsp. cinnamon
4 cups rhubarb, diced to about ½ inch.
½ cup currants or raisins
Bring the juice, honey, and cinnamon to a boil in a large saucepan. Add the rhubarb and currants or raisins. Cook, stirring, until the rhubarb is tender and the liquid thickens to a syrupy consistency — about 10 minutes or so. Pour into small containers and store in the freezer or refrigerator. This recipe will make about 2 pints.
Rhubarb wine
Rhubarb can also be made into an appealing and pleasant-tasting wine. There is even a commercial market for rhubarb wine. If you want to try your hand at making your own, here is a good recipe to do that.
7 pints water
5 lbs. rhubarb
1 lb. raisins
4 lbs. sugar
1 pkg. wine yeast
Heat the water to boiling and pour it over the rhubarb. Add the raisins and stir everything together well. Leave it all to soak for about 48 hours. Next, strain and put the juice through a jelly bag or similar material to remove as much of the fine pulp as possible. Put the juice in a large pan and heat slightly. Add the sugar to the warm juice (the sugar will dissolve better in the heated juice than if it were cold). When the sugar is dissolved, sprinkle the yeast on top and stir in. Put the soon-to-be wine into the fermenting vessel, attach an air lock, and ferment for 14 days or until bubbles are no longer emitted from the air lock.
After fermenting is complete, siphon the new wine into a clean container, being careful not to shake the container and disturb the sediment in the bottom. Place the container in a cool place to permit further settling of solids. After a few months, again siphon off the wine. This time it should be much clearer. It should now be ready for bottling and/or drinking. There are two benefits to siphoning the wine into the clean container for settling. First, it does prevent sediment from being poured in with the wine, and second, you invariably have to "sample" some of the young wine as you draw the liquid up and into the siphon tube!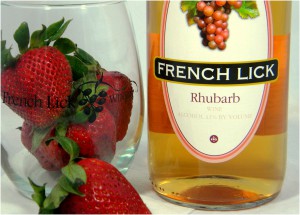 Rhubarb Wine made in French Lick, Indiana
Photo courtesy of French Lick Winery
Rhubarb is a versatile and decidedly American homestead plant. Once you try it, I believe you will agree. It is truly America's "pie plant."
Rhubarb sources
You can sometimes find rhubarb starts at local greenhouses or garden shops. If you can talk a gardening neighbor into sharing some starts, so much the better. If those options don't work, consider these sources:
Stark Bro's
PO Box 1800
Louisiana, MO 63353
800-325-4180
www.starkbros.com
Henry Field's Seed and Nursery Co.
P.O. Box 397
Aurora, IN 47001-0397
1-513-354-1494
www.henryfields.com
W. Atlee Burpee and Co.
300 Park Ave.
Warminster, PA 18974
1-800-888-1447
www.burpee.com
Organic rhubarb crowns are available from:
Peaceful Valley Farm and Garden Supply
P.O. Box 2209
Grass Valley, CA 95945
1-888-784-1722
www.groworganic.com
High Altitude Rhubarb
7225 Wildridge Rd.
Black Forest, CO 80908-2823
1-719-494-8424
www.highaltituderhubarb.com ∆