By Jackie Clay-Atkinson
 Rhubarb was first cultivated in China in pre-medieval times and eventually was traded along the famous Silk Road to Russia and most of Europe. From there, settlers brought it to the New World, tucked in among other roots and seeds destined for new homesteads. As the frontier expanded westward, pioneers dug up chunks of their plants' roots, wrapped them in burlap sacking, and brought the plants with them. Back in those days, rhubarb was known as "pie plant." As sparse as foods were back in the 18th and 19th centuries, rhubarb was much valued and passed from one family member to another, one friend or neighbor to the next.
Rhubarb is still a much-loved and highly productive garden fruit. It was always the first plant I planted on all of my new homesteads and also the first to give us those much-anticipated pies, bars, and sauces.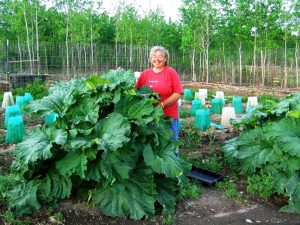 Rhubarb is a large plant with big, triangular leaves that are crinkled and pretty. The leaves contain a lot of oxalic acid and are toxic if eaten but the stems are safe to eat. The old varieties of rhubarb, such as Victoria, are the most common. But they are also the most tart. Newer varieties, such as Canada Red, are much sweeter.
Rhubarb can be started by seed, but it will take about three years before you can begin harvesting stalks. It is much better to buy rhubarb roots from a nursery or ask for a start from a friend or relative. All you have to do is take a shovel and divide a chunk of root from a mature plant. The rhizomes are thick and woody, so you have to use force to cut through them. With a small piece of root with a couple of rhubarb "noses" on it, you will be able to begin harvesting rhubarb in a year or two with good care. Rhubarb transplants best in the early spring, before the stems and leaves begin growing.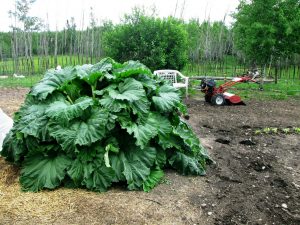 Rhubarb grows into a large, attractive plant from which you can harvest stalks for many tasty recipes.
Rhubarb is a heavy feeder and needs plenty of rotted manure added every year. If you find that your rhubarb leaves and stems are small, it's telling you that it needs more manure. In the fall, when the leaves die back, cover the entire plant with about eight inches of well-rotted manure, out to about two feet all around the plant. Come spring, the rhubarb will amaze you with its size and healthy appearance.
Rhubarb likes plenty of sunshine and adequate moisture without being planted in a very wet spot. Unfortunately for Southern growers, rhubarb likes it cooler and seldom does well as a perennial in southern climates. Some folks do have luck growing it in semi-shaded areas such as on the north side of a building and keeping it well watered. But rhubarb is very hardy, providing fruit for homesteaders in Zones 2 through 6.
To harvest rhubarb, wait until your plant is producing many healthy stalks, then pull a few (from young plants). By grasping a stalk with two hands, you can just pull it right out of the plant with no damage. I usually cut off the leaves right in the garden, using the big leaves as mulch around the plant. The larger the plant is, the more stalks you can harvest at one time, and the more often you can harvest them. After early summer, allow the plant to go ahead and make leaves and mature so it can store up nutrients for the coming winter. Never pull all the leaves out of the plant as this creates too much stress and the plant may die.
To use the stalks, just rinse them well and pull off the lower, clinging sheaves where it pulled away from the plant. There are many different scrumptious ways to use rhubarb and here are just a few:
Rhubarb sauce
2 lbs. (about 4½ cups) rhubarb, cleaned and cut into small pieces
1 cup water
1½ cups sugar
Mix all ingredients in large saucepan and slowly heat, covered. Simmer until tender but not mushy (about 12-15 minutes).
You may add more sugar if necessary. You may also thicken with 1 Tbsp. cornstarch, mixed with a small bit of cold water and stirred well into the sauce as it finishes cooking to make a thicker sauce. This is good alone or served over shortcake.
Rhubarb strawberry jam
2 cups chopped rhubarb
2 cups crushed strawberries
¼ cup lemon juice
1 pkg. powdered pectin
5½ cups sugar
Mix rhubarb, strawberries, lemon juice, and pectin in a large pot and stir while bringing to a full rolling boil over high heat. Add full measure of sugar and return to a full rolling boil, stirring constantly to prevent scorching. Boil hard for 1 minute. Remove from heat. Ladle hot jam into hot jars, leaving ¼ inch of headspace. Wipe rim of jar clean; place hot, previously-simmered lid on jar and screw down ring firmly tight. Process for 10 minutes in a boiling water bath canner. If you live at an altitude of 1,000 feet or greater, consult your canning book for directions on increasing your processing time.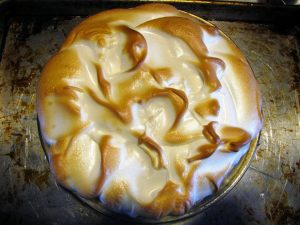 A fresh rhubarb pie from home-canned, homegrown rhubarb can't be beat!
Grandma Eddy's rhubarb pie
pastry for one-crust pie
6 cups cut rhubarb pieces or enough to fill a 9-inch pie tin, heaped in the center
2 Tbsp flour
1½ cups sugar
½ tsp salt
1 Tbsp butter or margarine
3 egg yolks, beaten, whites reserved
water or reserved rhubarb juice
In a mixing bowl, mix flour, sugar, and salt. Mix in melted butter. Add egg yolks and just enough water to make a batter which will pour from a spoon. Put rhubarb in unbaked pie shell and pour on batter. If using canned rhubarb, drain rhubarb and use 1 cup of reserved juice to batter instead of water, then pour over rhubarb in pie shell. Bake at 375° F until edges are golden brown and rhubarb is tender. Note: the addition of egg yolks in this recipe results in a much sweeter, less acidic pie.
Meringue
3 egg whites
pinch of salt
2 Tbsp. sugar
While pie bakes, beat egg whites with salt until soft peaks form. Gradually add sugar and continue beating until stiff peaks hold when beater is held up from meringue. Spoon meringue on baked, hot pie, sealing to edges of crust. Lift up peaks with spoon. Bake in oven at 375° F until meringue is golden brown.
There are hundreds more recipes for rhubarb, ranging from drinks to cakes, bars, cookies and even ice cream. If you don't have at least one rhubarb plant growing in your garden, I would recommend you plant one soon!
Jackie Clay-Atkinson is a lifetime homesteader, living much of it off-grid on a shoestring budget. She and her husband, Will, have a 120-acre homestead in northern Minnesota where they raise their own cattle, goats, chickens, and turkeys. Additionally, they have an orchard, berry patch, and several large gardens.