By Linda Gabris
Nothing tickles the taste buds better than a squirt of mustard on a roasted wiener, relish on a burger, ketchup with French fries, horseradish on a slice of roast beef, or a spoon of chutney to crown a venison curry. These are just a few of my family's favorite condiments that we use almost daily in our house to make our everyday meals so much more marvelous!
Of course, I should mention that my "condiment-crazy" gang isn't exactly gung-ho for store-bought condiments because they are rather bland when compared to my homemade specialities. I also find making my own condiments is thriftier than buying commercial products and, more importantly, it allows me to control the amount of salt and sugar that goes into every batch while eliminating artificial preservatives and other unwanted chemicals from our diet. Another thing I fancy is being able to adjust the "heat" levels up or down. Plus spices, garlic, and other good things can be added to each batch for unique creations every time.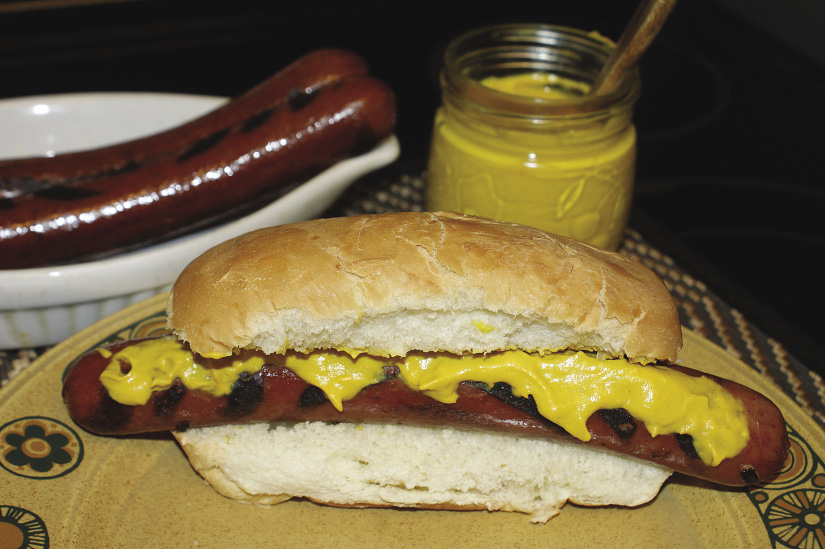 Simplest-ever old-fashioned "Ballpark" mustard
Making condiments is fun and easy, but be forewarned: once you start serving them to your family you'll find your old commercial standbys just won't "cut the mustard" anymore!
Try a few my favorite condiment recipes and see for yourself how a little spoonful of something special can add a big splash of flavor to almost any dish. There's lots of room for creative fun by using whatever you have available in amounts to suit your own tastes.
For instance, in the mustard pickle recipe that follows, I have given the original measures as handwritten by my aunt in her old recipe files, but I often increase the amount of cauliflower in the recipe and decrease the cucumber measure because at my table the little florets are always the first to disappear out of the mustard pickle dish! You can do the same for other things, too, such as increasing the onions and reducing the peppers or vice versa. Have fun experimenting and after a few seasons of condiment making, you may just start measuring by the eye as I often do.
Containers
I usually use small canning jars for holding homemade mustards but if you like to "squirt" it on your food instead of spooning it on then you can use empty saved-up plastic bottles that commercial mustards came in or a plastic squirt bottle which you can buy at dollar stores works great (nice for the picnic basket) and the same goes for ketchup, too. Since my recipes for corn relish, mustard pickles, and chutneys are geared for smaller sized batches I use pint jars for processing them but if you find you want to increase the recipe you can use quart sealers.
Homemade mustards
When I was a kid, rural folks like grandma bought mustard powder or "mustard flour" as grandma called it, in a tin from the "Raleigh Man" who travelled through our neck of the woods a couple times a year. Grandma always quipped "how dear it was!" Today mustard powder, as well as mustard seeds, are inexpensive and easy to find in larger supermarkets in the spice aisle or at bulk food stores.
When shopping for mustard seeds you'll find three types: yellow, black, and brown seeds. Brown and black mustard seeds are more pungent and produce darker mustards than do yellow seeds which have a milder taste and make the traditional "sunny" colored mustards.
The mustard recipes below make a typical "mustard-size" jar (about 1 pint) but if you use a lot of prepared mustard in your sauces and glazes you can make a double batch. They can be stored in the fridge in a capped jar for up to three months. Homemade mustards are always best after they have had a few days to "mellow out" before using.
When making mustards and horseradish I always open up the kitchen window because the strong vapors can make your eyes water. I still remember how Grandma used to joke that breathing in the fumes was a sure-fire cure for a stuffed up nose.
An important tip: When making the recipes below, use stainless steel rather than aluminum cookware as the latter can cause an off-taste.
Simplest-ever old-fashioned "Ballpark" mustard
This is the typical kind of mustard you smear on hotdogs and hamburgers at ballparks and fairs. Kids love it.
¾ cups yellow dry mustard powder
½ cup distilled white vinegar
Put water, mustard powder, turmeric, salt, and garlic powder into a small saucepan. Bring to a boil, reduce heat and simmer until it is thick, about 20 minutes. Whisk in the vinegar and honey. Continue to simmer, stirring frequently, until it reaches desired "mustard" consistency. You can taste it and adjust sweetness by adding more honey or tartness by adding a splash more of vinegar. Transfer to glass jar and store in fridge.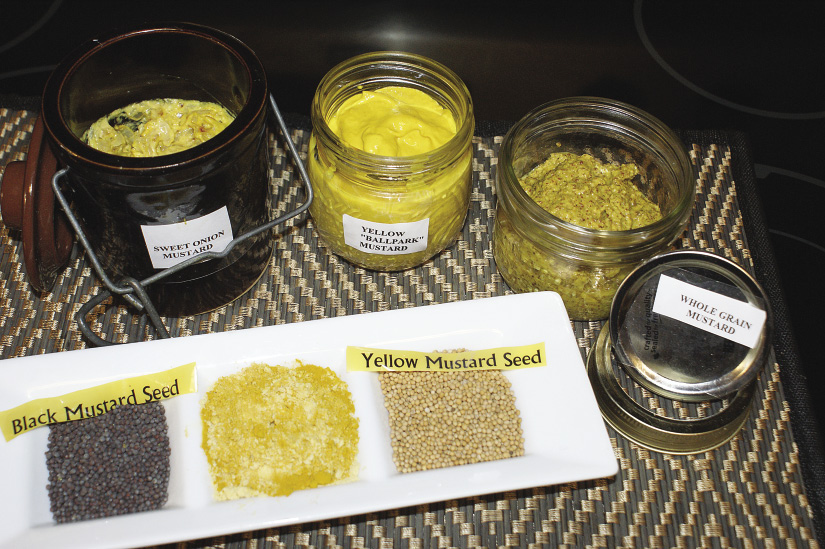 From left, Chunky sweet onion mustard, Simplest-ever old-fashioned
"Ballpark" mustard, and Gourmet whole grain mustard.
Variation: For dilly mustard, add 1 to 2 tablespoons minced dill weed (or a teaspoon or two of dried dill weed) along with the vinegar and honey.
Gourmet whole grain mustard
I love this "grainy" mustard — the flavor really "explodes" in your mouth!
½ cup brown mustard seeds
½ cup yellow mustard seeds
1 cup white wine (I use Riesling)
Put mustard seeds, wine, and vinegar into a small crock or earthen bowl, cover and soak at room temperature overnight.
Empty seed mixture into blender, add salt and sugar (a little more or less to suit taste), and whiz until "pasty" but still "grainy," adding a little more wine or vinegar as needed for processing. Transfer to a jar and store in fridge.
For variety I like to toss in ¼ cup of whole coriander seeds into the crock along with the mustard seeds which gives a unique, slightly sweeter flavor.
Chunky sweet onion mustard
This mustard is so good you can serve it as a dipping sauce for pretzels, crackers, vegetables, or anything you love dunking into mustard!
1 cup yellow mustard seeds
2 Tbsp. dry mustard powder
⅓ cup apple cider vinegar
1 minced Spanish or Vidalia onion (or 3 to 4 tablespoons dehydrated onion)
3 Tbsp. (more or less) dark brown sugar
In a glass bowl, cover mustard seeds and powder with the water, let stand 4 to 5 hours. Put vinegar, onion, garlic, and salt in a small saucepan and simmer until onion is tender, about 10 minutes. Stir in the honey, sugar, and mustard mixture, taste and adjust sweetness with sugar or honey, if needed. Continuing cooking, stirring constantly, until thick. Store in glass jar in fridge.
If you like a full-bodied dark mustard you can use balsamic instead of cider vinegar in this recipe.
End of Article Preview
This preview has consisted of the first two pages of a seven page article. The full article includes detailed instructions for a dozen recipes. You can read the rest of this article by subscribing to our paper edition, subscribing to our Kindle edition, or by buying the Fall 2017 issue.