By Melissa Souza
Bone broth has been increasing in popularity with diets such as paleo, but broth is not new. Our ancestors used to boil the bones of animals, because they used everything from an animal, and recognized the nutritious qualities of the broth they were creating.
Bone broth has many health benefits, and is actually very easy to make at home. It contains minerals in forms that your body can easily absorb: calcium, magnesium, phosphorus, silicon, and sulphur. You make broth by slowly cooking animal bones to extract the collagen in those bones. It makes a savory broth that is both delicious and beneficial.
The collagen from broth is wonderful for treating brittle nails, thinning hair, and increasing skin elasticity. It has also been linked to fat burning, and aiding in lean muscle building. Bone broth isn't only good for beauty, however.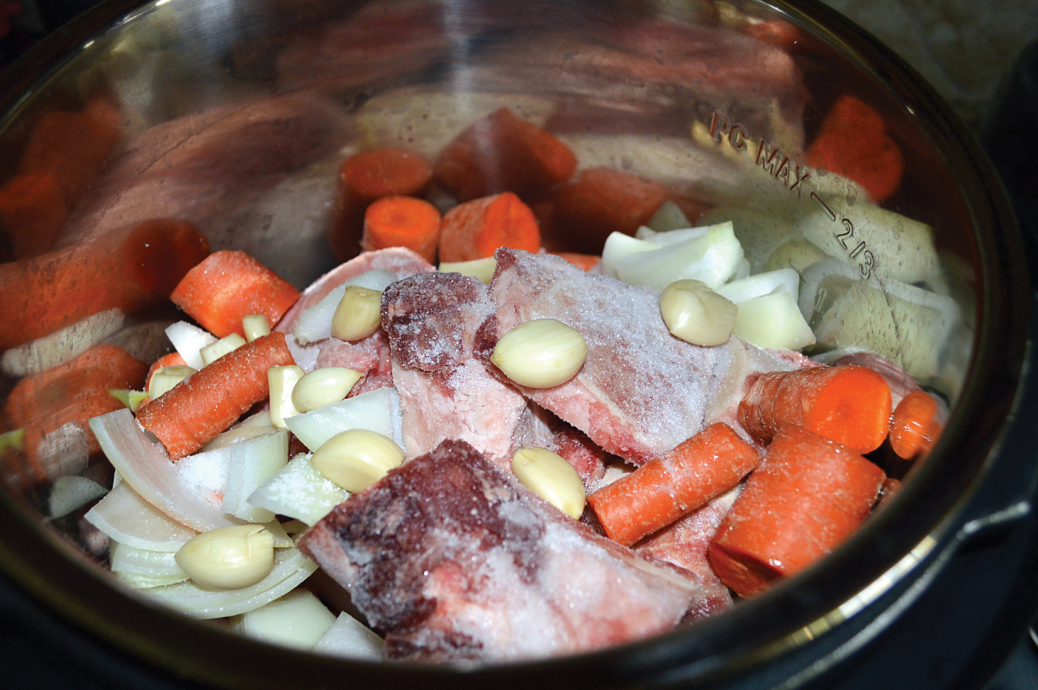 Chicken and beef broth has also been linked to immune strength. The generations-old tale of chicken soup for healing was because it had been made from real bone stock. The store-bought soups, stocks, and broth lack the amino acids, glycine, and proline that help your liver to remove toxins, and reduce inflammation of both the respiratory and digestive system. In addition, glycine is a building block of glutathione, one of the body's most powerful detoxifying agents. Homemade broth is a wonderful treatment for a cold or the flu.
Bone broth is also very beneficial to gut health. Bone broth is hydrophilic, which means it attracts and holds liquids like digestive juices. This helps your digestive system digest food more efficiently, and provides gelatin and other nutrients (calcium, magnesium, and phosphorus) that help to heal the gut from digestive problems like gas, constipation, and leaky gut.
Bone broth is also great for joint pain. It supplies glucosamine, chondroitin, and other glycosaminoglycans that help heal your joints. In addition, hyaluronic acid helps to lubricate your joints causing less pain and stiffness. This wonderful broth also supplies the body and joints with anti-inflammatory proline, glycine, and arginine. As we age, cartilage diminishes. As bone broth simmers, collagen from the animal leaches into the broth, and becomes readily absorbable when consumed.
Add broth to soups, stews, chili, roasted meats, mashed potatoes, and pretty much any other recipe that uses liquids. It can also be sipped hot from a mug, and makes a great late night snack or replacement for morning coffee.
Recipe for easy bone broth:
4 unpeeled chopped carrots
2 stalks chopped celery, including leafy part
1 medium onion, chopped
6 cloves garlic, peeled and smashed
4 pounds grass-fed beef bones (preferably joints and knuckles) OR 2 or more pounds raw chicken bones/carcasses
2 tsp. kosher salt
2 Tbsp. apple cider vinegar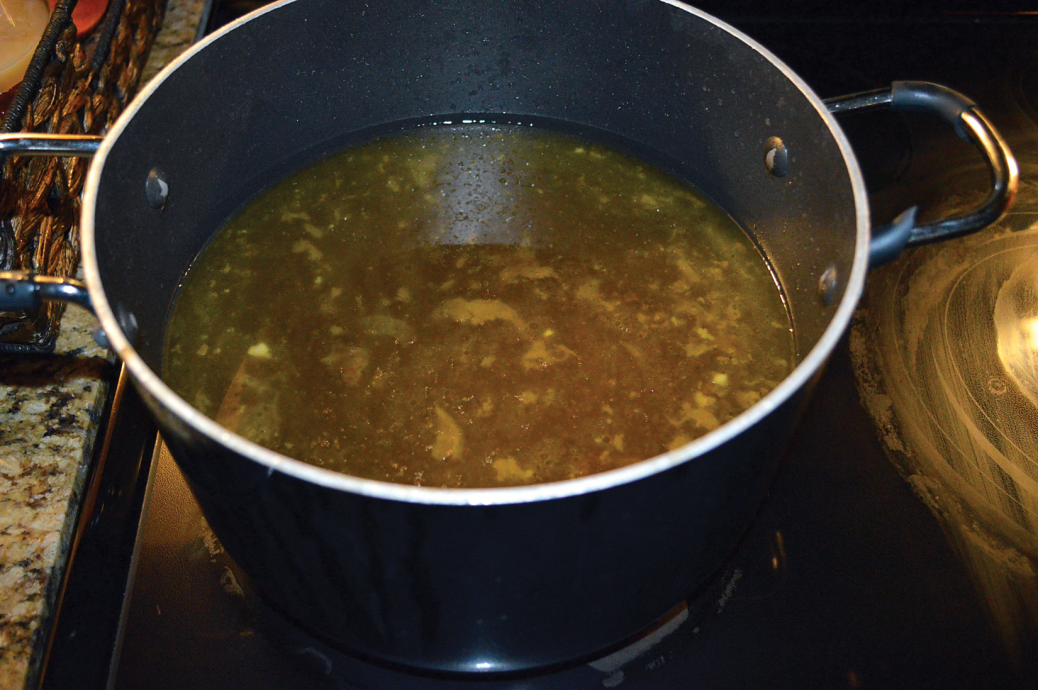 Electric pressure cooker method:
Place everything inside your electric pressure cooker, fill water to the maximum line, and pressure cook on low pressure for five hours. Use natural release when time is up.
Strain out all the solids and discard them.
Slow-cooker or stove top method:
Place the vegetables, garlic, and bones into a stockpot or slow cooker. Sprinkle on the salt, drizzle with vinegar, and add enough water to cover everything by an inch. Cover the pot and cook on low for 8 to 12 hours for beef or about 6 to 8 hours for chicken, skimming the broth occasionally, and ensuring the water level remains covering the bones.
When finished, strain out and discard the solids.
As bone broth cools it should be like gelatin. Use it right away or store it in the fridge for about four days. If you aren't planning to use it all, it can be frozen up to six months.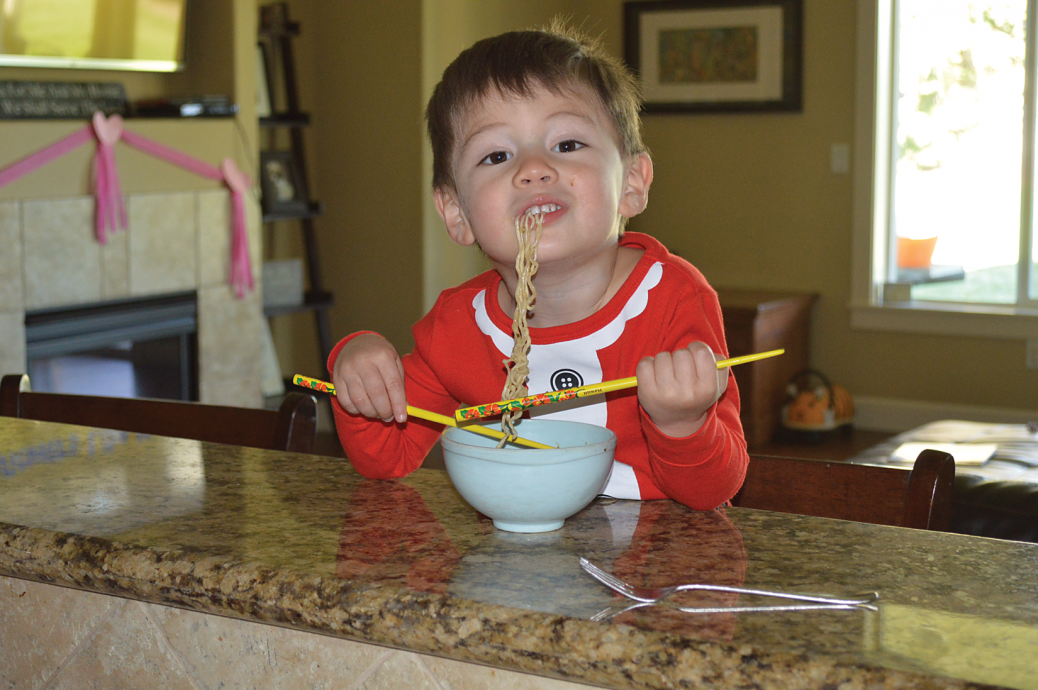 If you prefer, you may also can bone broth and store for up to two years. You must use the pressure canning method for canning bone broth.
How to pressure can bone broth:
Pour your cooled, skimmed stock back into a large, clean stockpot and bring to a boil. Get your pressure canner heating up as you prepare your jars and equipment.
Once the stock has reached a full boil, ladle it into the hot jars leaving 1 inch headspace.
Wipe clean rims, seal jars, and place in the pressure canner. Process pints 20 minutes and quarts 25 minutes at 10 pounds pressure. If at a higher altitude process at 15 pounds pressure according to an altitude chart in a recent canning manual.
Our favorite recipe for using homemade bone broth is Pho or Udon soup. We make this by adding carrots, green onions, soy sauce, bok choy, and thin sliced steak to the broth. We then add either Pho or Udon noodles and cook them until done. Serve hot with fresh bean sprouts, and a lime wedge. Hot sauce is optional, but very effective when treating colds.
We add bone broth to many of our recipes, and encourage others to try this delicious, easy, and healthy addition to their own home cooking.