Whether you live deep in the woods or on the top floor of a high-rise apartment, we truly believe that you can enrich your life by becoming more self-reliant.
This magazine contains articles on cooking, DIY information, gardening, livestock, foraging, building, and preparedness.
Self-Reliance magazine is available as a printed edition and for Amazon Kindle.
Subscribe to Self-Reliance magazine
Subscribe to Self-Reliance for Kindle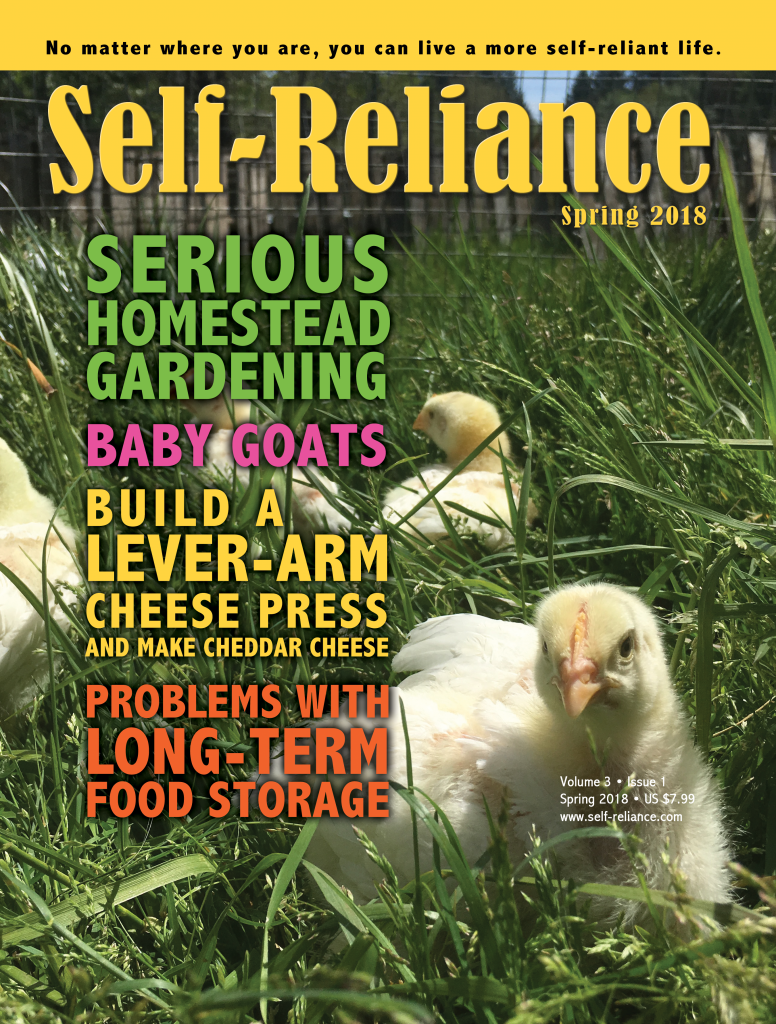 In this issue — Spring 2018
On the cover
♣ Serious homestead gardening by Jackie Clay-Atkinson
♣ Off to a good start — newborn goats and the first days of life by Donna Insco
♣ Build a lever-arm cheese press and make the best cheddar cheese by Patrice Lewis
♣ It's time to rethink long-term food storage by Jeffrey R. Yago, P.E.
In the garden
♣ Amen to the Praying Mantis by Allen Easterly
♣ Fruits for the Far North by Johanna Melchiore
♣ Grow potatoes in cages and harvest the easy way by Michele Cooper
In the community
♣ Fellowship of the soil by Tom Kovach
In the workshop
♣ Sick of junky tools? Go back in time by David Goodman
In the barnyard
♣ Novice chickens from a chicken novice by Dan Gilmer
♣ Adventures in Broodyville by Setanto O'Ceillaigh
In the kitchen
♣ Canning Class, Part 7: Canning vegetables by Jackie Clay-Atkinson